Loba 2K Invisible Protect A.T - 1 Gallon
Regular price
$135.50 USD
Regular price
Sale price
$135.50 USD
Unit price
per
Sale
Sold out
LOBA is your surface specialist for parquet and hardwood floors. Benefit from our expertise gained over more than 90 years in parquet finish, oil and wax, as well as professional cleaning and care products. Developed by specialists for specialists, we offer you floor finishing products that are not only safe but also environmentally friendly. Our experts would be delighted to answer all your queries regarding the treatment of quality floors. LOBA - On Top!
High-performing and environmentally aware – with outstanding durability and in a wide assortment of products. The LOBADUR ®  line is also ideal for professional use. The right product for every requirement – from residential to commercial applications, for a matt or glossy look and for color-stained floors.
Loba 2K InvisibleProtect A.T:
2-Component water-based thin film coating for hardwood floors.
High-quality and innovative raw materials are the key to making LOBADUR® 2K InvisibleProtect A.T. a truly unique surface coating. The wood looks and feels untreated and offers you all the protection of a finished floor. High durability and easy cleaning combine to make LOBADUR® 2K InvisibleProtect A.T. the perfect surface treatment for all lovers of natural wood.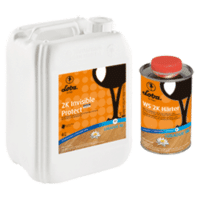 Collapsible content
Benefits

Special Feature:
LOBADUR® 2K InvisibleProtect A.T. is a unique surface treatment. In addition to being invisible, it also feels incredibly like untreated wood. The latest generation of raw materials guarantees that the floor will be long-lasting and will not be polished up even under heavy wear.

Recommended use:
Suitable for wood and cork floors. For heavy traffic in residential areas and commercial use.

Meets the OSHA requirements for walking surfaces of 0.5.

Properties:

Looks and feels like natural untreated wood.
Very easy to apply.
Self-sealing - no primer needed
Excellent chemical resistance
Non-ambering, keep the natural appearance of the wood
Creates the look of natural oil with the prior use of HS 2K Intensive
Technical Specifications

Coverage:
400-500 square feet per gallon

Application:
Sand and remove dust from the surface properly
First coat 2K InvisibleProtect A.T. with LOBATOOL roller Universal 100
Intermediate sanding after 4-6 hours with 180 grit or maroon pad to remove grain raise
Second coat 2K InvisibleProtect A.T with LOBATOOL roller Universal 100
Optionally a third coat of 2K InvisibleProtect A.T. after another intermediate sanding